Due to the limit, 30 bags at most are available per order.
Designed for 50° Dripper and 60° (for 4 cups) Dripper 
Size: 125mm*125mm
Amount: 20 piece/bag
The two kinds of filter papers are specially designed for light-roast beans, the red package (Filter Paper #1) and white package (Filter Paper #2). With their help, extraction rate can be increased efficiently, offering you a cup with strong flavors and a wide range of aromas. Sweetness is also enhanced. It would be easy for your tongue to notice, feel and enjoy that amazing sweetness. Besides, naturally processed coffee delivers a strong fruitiness. 
Our filter papers can facilitate to let that fruitiness of your coffee release, making it taste more like a clean and balanced cup of fruity tea rather than a stereotypical coffee with strong bitterness.

Since it takes 15 (±5) more seconds for water to flow with Filter Paper #1 than with Filter Paper #2, the taste of coffee would be influenced by them in different ways.

For Filter Paper #1, a cup tastes richer and sweeter with strong flavors.
For Filter Paper #2, a cup is cleaner and mellower with freshening fruitiness.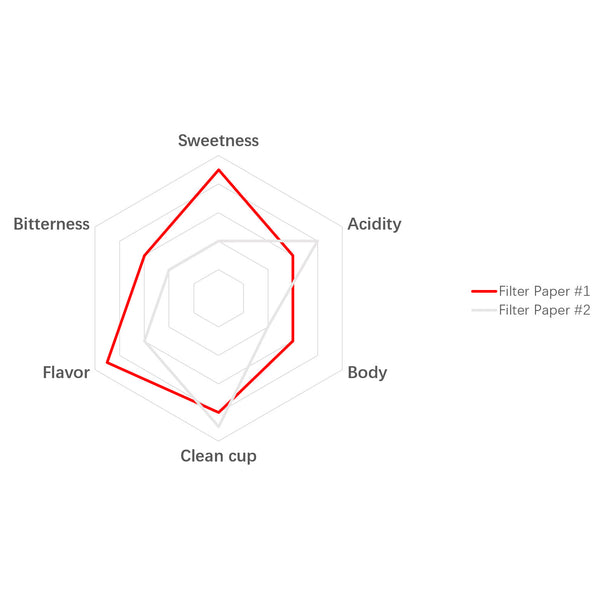 Next, you can play with them to do some coffee magic. 
First, when the coffee dripper used and the amount of coffee powder are the same, you would have a strong sweetness and flavorful cup with Filter Paper #1, while with Filter Paper #2, you can make a bright cup free from flavor defects with crisp acidity and sweetness. This difference of taste results from the difference of water flow speed which can be affected by the use of different filter papers. Fast speed water flow can help make coffee clean while a relatively low speed would lead to a strong sweetness and flavorful cup. 
Second, with the same coffee dripper but different amount of grounds, although the two filter papers work differently, you can still use them to achieve similar coffee tastes. This is because the flow speed is adjusted with different amount of grounds and filter papers, the water flow speed changes and extraction time as well. Then the coffee taste such as richness and sweetness is something you can play with. For example, the taste of a cup with 18g-22g grounds and Filter Paper #2 is similar to that of one with 13g-17g grounds and Filter Paper #1. The magic behind is that larger amount of grounds slows the flow speed and then extraction time increases. As a result, the coffee taste would become richer but less sweet. However, when we use the Filter Paper #2 to let water flow faster, extraction time is affected by both ground amount and flow speed which makes it possible to make our magic happen.